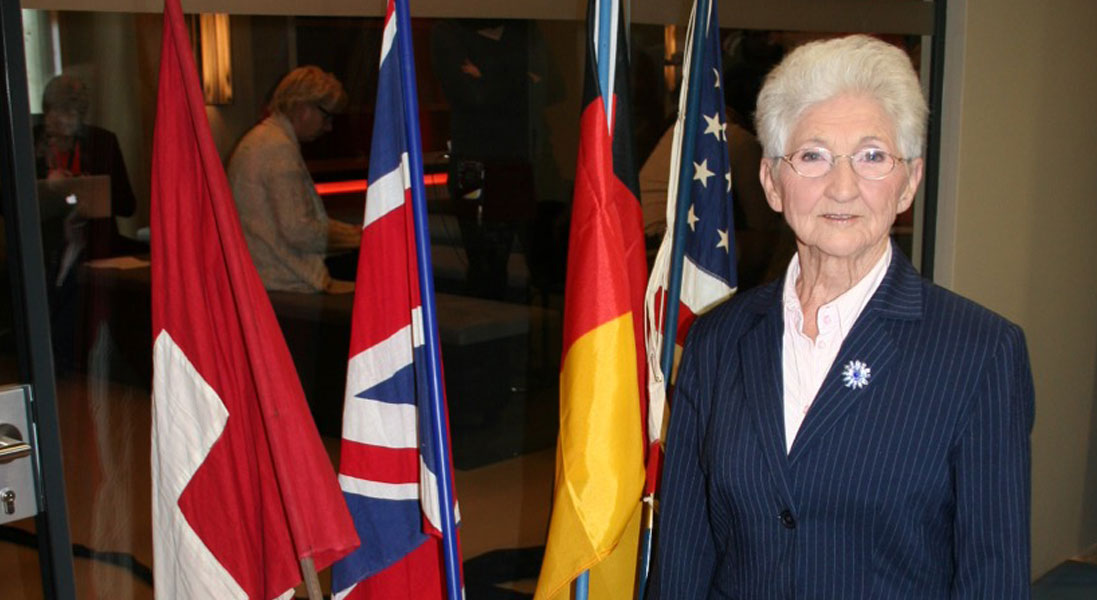 World's Oldest Gymnast receives Nadia Comaneci Sportsmanship Award
OKLAHOMA CITY – Five gymnastics legends were honored at the 19th annual International Gymnastics Hall of Fame (IGHOF) ceremony, but one woman provided a highlight to the evening's festivities. On Saturday, May 16, 2015, 89-year-old Johanna Quaas of Germany received the Nadia Comaneci Sportsmanship Award.
"That night, the IGHOF honored five individuals who have contributed greatly to the sport. This year was unique because we also celebrate octogenarian Johanna Quaas who is officially the World's Oldest Gymnast according to Guiness Book of World Records, " said Bart Conner, Chair of the IGHOF board and husband of Nadia Comaneci.
YouTube videos of Johanna Quaas' precise gymnastics routines on the Floor Exercise, Parallel Bars have gone viral and have been viewed over 7 million times, according to Conner. 
"At first I could not believe it, that I should receive the Nadia Comaneci Award! because actually only the top stars of the world are honored by the International Gymnastics Hall of Fame," said Ms. Quass, who traveled from her home in Halle, Germany, to receive the honor.
Two Olympic gold medalists were officially inducted into the IGHOF Class of 2015:
Elena Zamolodchikova (Russia): 2-time gold medalist at the 2000 Olympics
Valery Belenky (Azerbaijan): 1992 Olympic gold medalist and 4-time World gold medalist
Other special recognition awards were presented that evening to 2-time Olympian and renowned U.S. Olympic coach Abie Grossfeld, who received the Frank Bare Award for his important contributions to gymnastics in the U.S.  Also, Philippe Silacci of Switzerland, the former Chief Media Operations Officer for the International Gymnastics Federation, received the AAI International Order of Merit.
---
2013 Award
Jordyn Wieber
---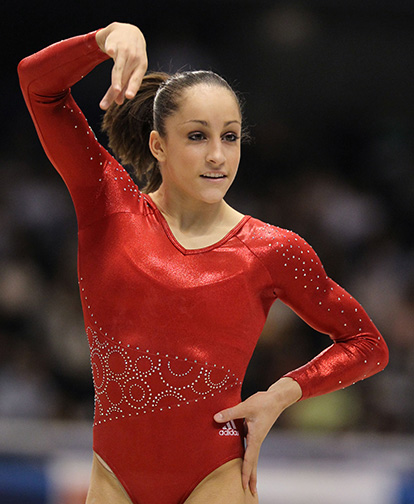 OKLAHOMA CITY – The International Gymnastics Hall of Fame (IGHOF) honored Olympian Jordyn Wieber with the first Nadia Comaneci Sportsmanship Award at the 2013 induction ceremony on May 18.
The Nadia Comaneci Sportsmanship Award honors a currently competitive or recently retired gymnast from around the world who has demonstrated great sportsmanship or fair play. Wieber, who was a member of USA's "Fierce Five" gymnastics team at the 2012 London Olympics, is a two-time World Champion, and now an Olympic Gold Medalist.
1993 IGHOF inductee and Olympic Gold Medalist Nadia Comaneci is thrilled to honor Wieber with the award.
"I'm happy to present the award to Jordyn Wieber," Comaneci said. "Jordyn was the reigning World All-Around Champion but failed to qualify for the finals in London, and yet she showed great sportsmanship by overcoming her personal disappointment to help lead the US women to the gold medal."
In an effort to support its mission of connecting gymnastics' greatest athletes with future generations of young gymnasts and fans, the IGHOF hosted a sweepstakes for one lucky person and a guest to win a trip to attend the induction ceremony dinner and sit at Jordyn Wieber's table. That evening, not only was Wieber honored, but gymnastics legends Albert Azaryan (Armenia), Lyubov Burda (Russia), Gena Gogean (Romania) and Yuri Korolev (Russia), were formally inducted into the IGHOF.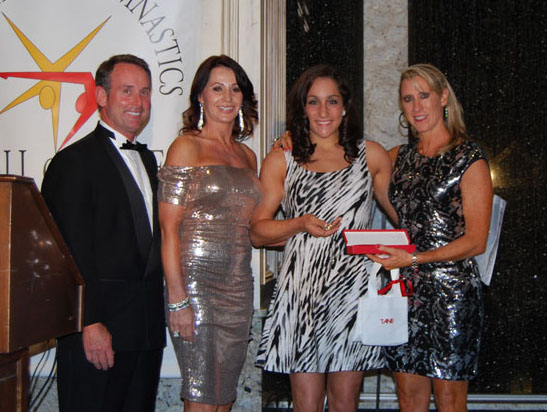 Nadia Comaneci, along with IGHOF board members Estella de la Torre (right) and Michael Wilson (left), present the inaugural Nadia Comaneci Sportsmanship Award to Olympic Gold Medalist Jordyn Wieber, during the 2013 Induction Ceremony in Oklahoma City, OK, USA.