Induction Ceremony 2009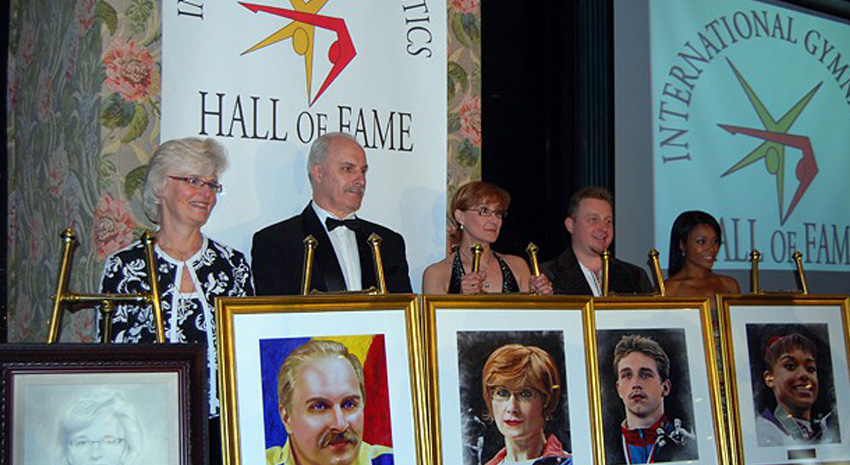 Five legends were honored at the 13th annual International Gymnastics Hall of Fame induction dinner Saturday night in Oklahoma City. Margaret Sikkens Ahlquist (Sweden), Octavian Bellu (Romania), Elvira Saadi (Uzbekistan), Vitaly Scherbo (Belarus) and Dominique Dawes (U.S.) stand by their portraits. Photo, courtesy of IG Magazine
Written by Dwight Normile, Editor IG Magazine
Five legends were honored at the 13th annual International Gymnastics Hall of Fame induction dinner Saturday night in Oklahoma City. The addition of Octavian Bellu (Romania), the late Viktor Chukarin (Ukraine), Dominique Dawes (U.S.), Elvira Saadi (Uzbekistan) and Vitaly Scherbo (Belarus) brings the total Hall of Fame membership to 69 individuals from 20 countries. Sweden's Margaret Sikkens Ahlquist, president of the International Gymnastics Federation's Gymnastics for All Committee, received the International Order of Merit.
The 2009 induction class combined to win 47 Olympic medals and 91 world championship medals.
Bellu, the second coach to be inducted after compatriot Bela Karolyi (1997), piloted the Romanian women's team to five consecutive world team titles (1994-2001) and two Olympic team golds (2000-04). Never one to sing his own praises, Bellu conceded how touched he was to receive the call to the Hall of Fame. "If they decide that for me to be in the International Gymnastics Hall of Fame, now I am sure I did a good job," he said humbly. "Gymnastics was my life, and I tried to do my best." Bellu, who now works as an adviser for all sports in Romania, expressed the fact that coaches are rarely remembered in history, which made the evening that much more special for him. "We are not the stars," he said. "The stars are the gymnasts. We accept to be on the back stage." Bellu closed with the realization that he was now in the Hall of Fame with some of his past pupils. "So now I'm with my former gymnasts in the same family," he said. "So what is better than this?"
Chukarin, who passed away in 1984, was an example of patience and perseverance. After serving in World War II, during which he spent time as a POW in a concentration camp, Chukarin went on to win seven gold medals combined in the 1952 and 1956 Olympics, including back-to-back all-around titles.
Saadi, now a successful coach whose pupils included Tatiana Groshkova (Soviet Union) and Yvonne Tousek (Canada), delivered her acceptance speech with the same passion she exuded as a competitor. A gold medalist with the Soviet Union at the 1972 and 1976 Olympics, Saadi stood out for her dramatic choreography and soulful expression. "I never had a goal to be the best," said Saadi, the first native of Uzbekistan to be inducted. "I am a person who can feel gymnastics."
Prior to each award a video montage was shown of each inductee. Saadi's included her floor routine to "Carmen," which simply mesmerized the gathered guests, many of whom traveled from around the world to attend. Saadi was visibly moved, and said she had never seen herself perform. In tears by the end of her speech, she claimed to have been a "spoiled child, actually, because my mother let me do what I want." And that was gymnastics.
Six gold medals in one Olympics has been surpassed only twice, so Scherbo is in rare company in Olympic record books. That's what he accomplished at the 1992 Barcelona Olympics, and he remained the man to beat for the next couple of years, as well. Still with the same boyish grin, Scherbo entertained the dinner crowd much as he did gymnastics arenas. He compared his oppressive upbringing in the former Soviet Union with the freedoms he now enjoys as a U.S. citizen and gym owner in Las Vegas. He joked and promised not to cry, because he was a man. When he competed, he was the man. He knew it, and everyone else knew it. He called himself the "bad boy" of gymnastics. "There is supposed to be someone bad, right?" quipped Scherbo, whose 23 world and 10 Olympic medals is a gymnastics record. But Scherbo showed a softer side during his speech. "It's a privilege to be inducted with so many monsters of gymnastics," he said, adding that words were "not enough to explain what's happening in my soul right now." Indeed, the Hall of Fame humbled the great Vitaly Scherbo.
1996 Olympic gold medalist Dominique Dawes was the final inductee of the evening, and she began by admitting that awards really don't affect her much. By the end of her speech, it was obvious this one did. With tears streaming down her cheeks, Dawes credited much of everything she has accomplished as a gymnast and a person to her former coach and forever mentor Kelli Hill. "She has been my role model since I was 6 and is still my role model at 32," Dawes said. "I stand here today accepting this award on her behalf."
Emcee Bart Conner had opened the ceremony with a tribute to Hall of Fame founder Glenn Sundby, who passed away in March, and closed with a simple thought that seemed to characterize the evening perfectly. "Excellence is inspiring," he said.
by Dwight Normile
Photo
Gallery