Gymnastics Legends to be honored by the International Gymnastics Hall of Fame in 2015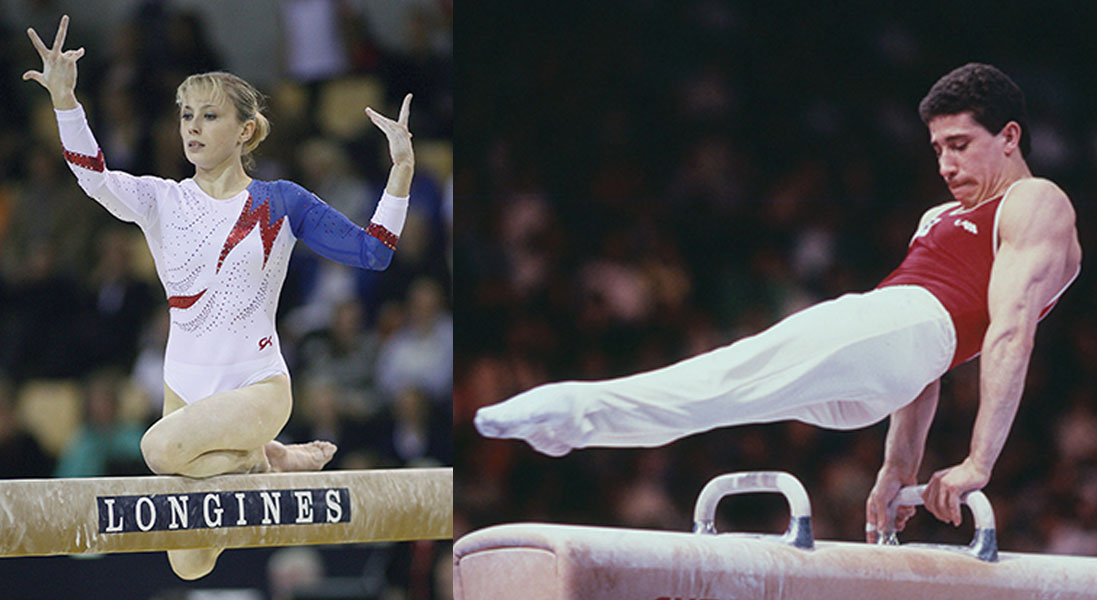 OKLAHOMA CITY – Five gymnastics legends will be honored at the 19th annual International Gymnastics Hall of Fame (IGHOF) ceremony on Saturday, May 16, 2015, at the Petroleum Club in Oklahoma City.
The IGHOF Class of 2015 Inductees are:
Elena Zamolodchikova (Russia): 2-time gold medalist at the 2000 Olympics
Valery Belenky (Azerbaijan): 1992 Olympic gold medalist and 4-time World gold medalist
In addition to the two Hall of Fame inductions, there will be three special awards presented that evening.  The Frank Bare Award will be presented to 2-time Olympian and renowned Olympic coach, Abie Grossfeld for his important contributions to gymnastics in the US.
The Nadia Comaneci Sportsmanship Award will be presented to Johanna Quaas of Germany who at 89 years of age still competes in senior gymnastics competitions. 
The AAI International Order of Merit will be awarded to Philippe Silacci of Switzerland who recently retired as the Chief Media Operations Officer for the International Gymnastics Federation based in Switzerland.
"It is going to be inspiring to have so many gymnastics legends at the Petroleum Club that evening," Bart Conner, Chairman of the IGHOF board, said.
Over the past 18 years, 85 of gymnastics greatest stars and contributors, representing 21 countries, have been formally inducted into the Hall of Fame. The IGHOF is home to gymnastics greats such as Vera Caslavska, Nadia Comaneci, Olga Korbut, Mary Lou Retton, Nikolai Andrianov, Bart Conner, Sawao Kato, and Vitaly Scherbo.
Founded in 1987, the IGHOF was originally located in Oceanside, California. In 1996, it was relocated to Oklahoma City, Oklahoma, where it has developed a solid foundation of private support.
"People are often surprised to know that this is the only International Gymnastics Hall of Fame in existence, and it is endorsed by the International Gymnastics Federation," Conner said.
The International Gymnastics Hall of Fame continues to preserve, promote and share the achievements of the sport's greatest legends, with the IGHOF exhibit at the Science Museum Oklahoma in the Adventure District in Oklahoma City. Visitors can try out gymnastics equipment, view portraits of all inductees, see sculptures, paintings and memorabilia, and use the video kiosk to view videos and study the careers of the international gymnastics stars.
"Our goal is to preserve the legacies of these international gymnastics legends, and use their stories of achievement to inspire future generations," Conner said.
For tickets to the IGHOF dinner ceremony, contact Lynn Landis at 405-364-5344.
For media requests, contact Allison Keiffer at Allison@intlgymnast.com or call 405-364-5344.
The International Gymnastics Hall of Fame is a dynamic, forward-looking organization that celebrates the athletic and artistic excellence of our sport's most accomplished athletes and legends, and connects them with future generations of young gymnasts and fans.