Induction Ceremony 2010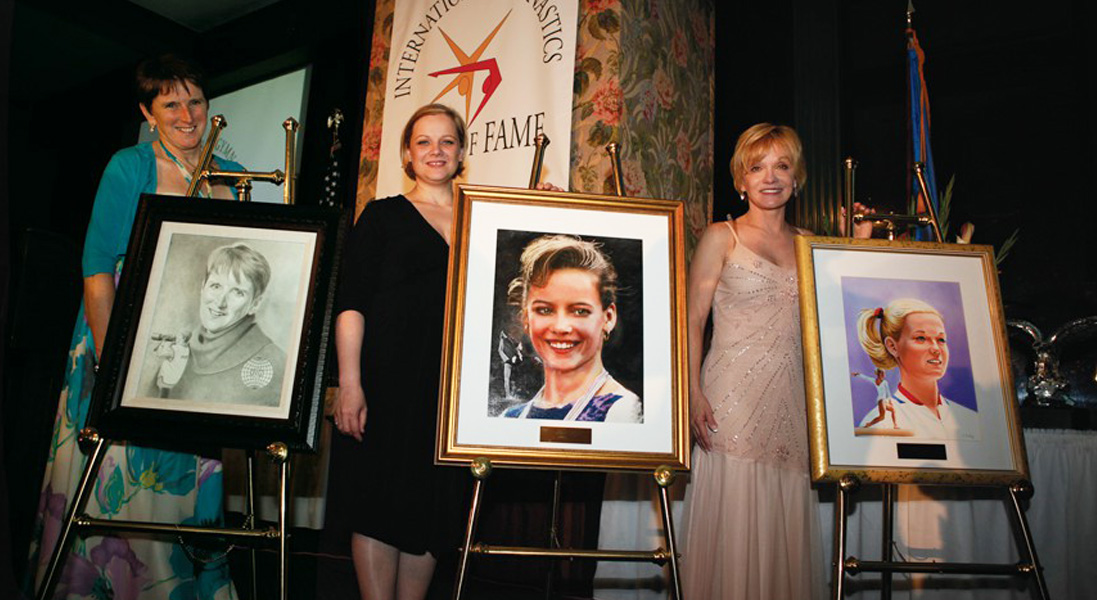 INSPIRATION - The diverse Class of 2010 represents four decades of gymnastics history. Their stories are as different as the apparatus on which they made history. The four gymnasts honored at the 14th annual Induction Ceremony of the International Gymnastics Hall of Fame combined to win 35 world and Olympic medals. Yuri Korolev, Henrietta Onodi, Cathy Rigby (who was inducted in 1998 but could not attend that year) and the late Mikhail Voronin were the latest to join the growing list of legends in the Hall of Fame, while former FIG photographer Eileen Langsley received the AAI International Order of Merit. And as each was honored at the exclusive Petroleum Club in Oklahoma City on May 15, a common theme emerged. Yes, the emotional acceptance speeches transported the gathered guests back in time, but they also ushered them forward with a new sense of inspiration.
Officially inducted in 1998 but unable to attend because of her starring role in Peter Pan, Cathy Rigby closed the evening with the style and grace that defined her gymnastics.
"I'm so grateful to be here," said Rigby, 57, who then quipped, "I'm sorry it took me 12 years; I was stuck in that harness all that time."
Yes, before she was flying above stages as "the boy who never grew up," Rigby spoke of her unusual upbringing as a gymnast in Southern California. And like Onodi, Rigby remembered those who enabled her career, which included the first world championship medal by an American gymnast (silver on beam in 1970).
"It's really difficult to stand up here and thank all the people who have touched your life and helped you achieve certain goals, but I have to tell you that the last three days have been—(Rigby paused to collect her emotions)—extraordinary, because I've been away from the sport for a very long time. And part of that was because I wanted to get away at one point to kind of take on another identity and figure out who I was. I had an amazing time in the sport, and I will thank those people for that … it's like coming home to family. It's something I will cherish forever."
Rigby first thanked her husband, Tom McCoy, with whom she continues to work in entertainment. Then she recognized Frank Bare (first executive director of the U.S. Gymnastics Federation): "He was like a dad. He was just so wonderful…."
Next, Rigby offered telling vignettes of her late coach, Bud Marquette. "He was a pain in the you-know-what sometimes to deal with, but he gave his heart and soul to the sport of gymnastics and to me," she said.
Finally, Rigby spoke fondly of her mother. "She was an example of how to be and how to act and how to persevere," said Rigby, a mother of four and grandmother of three. "Whenever I would come home from a competition, my mom was just there. There was no judgment. It was just a hug and, 'Honey, how are you?' and 'Good job.' And I never realized how much that meant to me. So I am forever grateful to this amazing woman."
Rigby also said she was "so grateful and proud to be part of the International Gymnastics Hall of Fame," which now has 72 members representing 20 countries.
Before the inductees and gathered guests mingled for photo opportunities and autographs, emcee Bart Conner closed the evening with these fitting words: "Excellence to us is inspiring, and that's all we try to capture on this night."
Yet once again, the overall impact on those in attendance was so much more.
by Dwight Normile
Photo
Gallery