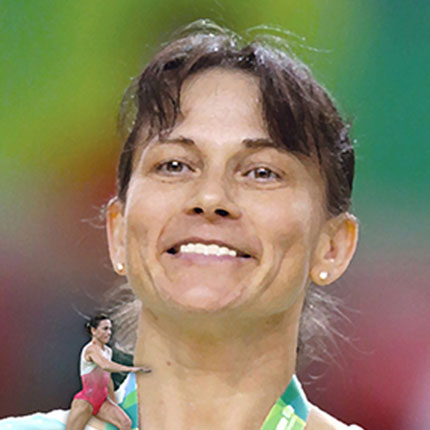 Oksana

Chusovitina

The seemingly ageless Oksana Chusovitina made history in 2016 by becoming the first gymnast to compete in seven consecutive Olympic Games. In Rio, she also was the oldest Olympic female gymnast (41 years, 56 days).
Chusovitina has five skills named after her in the Code of Points: two on vault, two on uneven bars and one on floor exercise.
The seemingly ageless Oksana Chusovitina made history in Rio in 2016, when at the age of 41 years and 56 days, she became the first gymnast to compete in seven consecutive Olympic Games.
Chusovitina was born on June 19, 1975, in Bukhara, Uzbekistan, and it was at the age of 15 that the gymnastics world first got a glimpse of her brilliance, when she attended the 1990 Goodwill Games in Seattle. The following year, she represented the Soviet Union at her first World Championships, where she helped her team win the gold. She tied for the floor exercise title, and earned the silver on vault.
Chusovitina's Olympic debut was in 1992 in Barcelona, where she represented the Commonwealth of Independent States. Again, her gutsy performances were key to her team's victory.
Chusovitina represented Uzbekistan from 1993 to 2006, and in 1997 she married Uzbek Olympic wrestler Bakhodir Kurbanov. In 1999 they had a son, Alisher. But three years later, however, Alisher was diagnosed with leukemia. So his parents accepted a generous offer to move to Germany, where Alisher could receive treatment.
Chusovitina obtained German citizenship and competed in various club competitions, which earned prize money to help pay for her son's care. Alisher is 17 now, attending school in Germany, and cancer-free. She also represented her new country at the 2008 Beijing Olympics, where her silver medal on vault was the only medal for the German women's team. Chusovitina represented Germany for the final time at the 2012 Olympics, and she has been competing for her native Uzbekistan ever since.
Chusovitina's strongest event has always been vault, where she has won nine World medals—and that's before and after two torn Achilles tendons. At 41, Chusovitina attempted the most difficult vault in the Rio Olympic event finals, a handspring followed by a double somersault. Even though she fell and placed seventh, it was a remarkable feat, nonetheless.
While many female gymnasts retire in their early 20s, Chusovitina has continued to improve. Her former teammate, and fellow International Gymnastics Hall of Fame honoree Svetlana Boguinskya, has provided support and coaching for the last several years. 
Chusovitina has been a trailblazer of sorts. She has five skills named after her in the International Gymnastics Code of Points. Two on vault include the handspring layout front with one-and-a-half twists. She has two skills on uneven bars—the hop full pirouette, and the full-out dismount. She also has one eponymous skill on floor exercise, the laid-out double back with a full twist in the second flip.
This inspiring gymnast continues to compete in 2017, winning the gold on vault at two World Cup events: Baku, Azerbaijan, and Doha, Qatar. She even has her eyes set on a shot at her eighth Olympics in Tokyo in 2020.
As an honored member of the Class of 2017, Oksana Chusovitina made history again—as the only gymnast who is still competing to be inducted into the International Gymnastics Hall of Fame.
Photo
Gallery