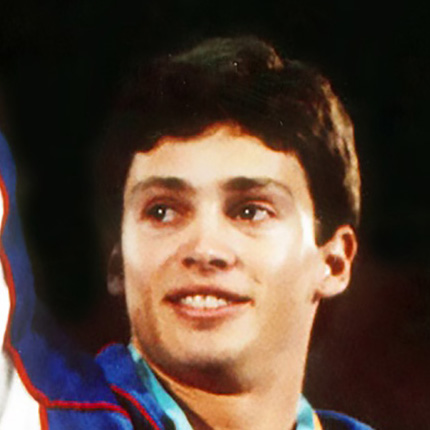 Mitch

Gaylord

Every once in a while, a uniquely talented individual comes along who leaves an indelible impression on their sport. Such is the case with U.S. Olympian Mitch Gaylord who has, not one, but two original skills named after him in the International Code of Points.
Born on March 10, 1961, in Van Nuys, CA, Mitch Gaylord's daring acrobatic skills were evident at an early age. Gaylord made his first U.S. National gymnastics team in 1980. That year, he debuted the first of his two eponymous skills, the "Gaylord Flip," a daring front 1 and ½ release move over the bar.
Even though Gaylord did not qualify for the 1980 Olympic team, he started making a name for himself with his courageous routines while at UCLA.
After the 1981 World Championships, Gaylord decided to train in Arizona with America's first world champion, Kurt Thomas. Gaylord credits Thomas with, among other things, instilling the confidence and showmanship he needed to take his gymnastics to the next level. In 1983, Gaylord moved back to Los Angeles to rejoin his team at UCLA. While there, Gaylord won the 1983 and 1984 USA Gymnastics National Championships, as well as the 1984 NCAA Gymnastics Championship.
Gaylord qualified for the 1984 Olympic team along with his UCLA teammates, Peter Vidmar and Tim Daggett, as well as Oklahoma's Bart Conner, and Nebraska's Jim Hartung and Scott Johnson. In the final rotation of the competition, with the gold medal on the line, Gaylord performed his risky "Gaylord 2" skill for the first time in Olympic history to help the American's secure the team gold medal.
After the Olympics, Gaylord was a natural for Hollywood, starring in several films including a big budget theatrical release called American Anthem.
Already a member of the US Olympic and Paralympic Hall of Fame, the UCLA Hall of Fame, and the International Jewish Sports Hall of Fame, Mitch Gaylord, with four Olympic medals, one gold, one silver and two bronze, appropriately joins the International Gymnastics Hall of Fame in the Class of 2023!
Photo
Gallery