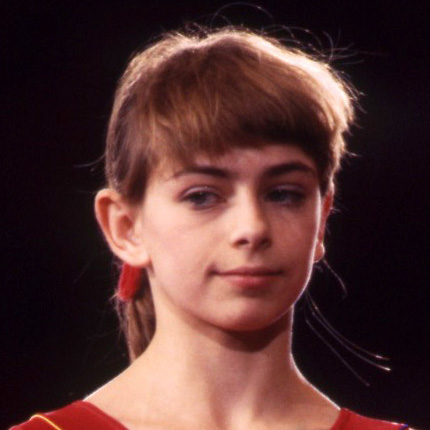 Oksana

Omelianchik

Known for her innovation, along with her elegant and charismatic presentation, Oksana Omelianchik's 1985 World Championship gold medal winning floor exercise routine is still as compelling today as it was when she debuted it nearly 40 years ago!
Born on January 2nd, 1970, in Ulan-Ude in the former Soviet Union, Ukrainian Oksana Omelianchik trained at the Spartak club in Kiev, Ukraine, where her coaches Valentina Panchenko, Valery Tupitsy and Galina Perskaya helped perfect her precise technique, trademark daring difficulty, and showmanship.
Omelianchik's balance beam routine, which won her the European Championship gold medal in 1985, culminated with a rare triple twist dismount, which would still be competitive by today's standards.
Omelianchik was a member of the Gold Medal winning Soviet team at the 1985 World Gymnastics Championships in Montreal, but she struggled in the team competition and did not actually qualify for the all-around final. However, Soviet team officials decided to replace two higher placing gymnasts, both of whom had qualified for the all-around, and substitute Omelianchik and her teammate Elena Shushunova into the final. The decision proved to be sound as the two gymnasts tied for the all-around gold and became co-world champions.
Oksana has two eponymous skills listed in the International Code of Points. The Omelianchik vault, which is a round-off back handspring with ½ turn onto the vault table and a piked front salto off. The other skill that bears her name is a back handspring with a ¾ turn to handstand on the balance beam.
Omelianchik remains involved in gymnastics as a choreographer, coach and judge. She heads the women's technical committee for the Ukrainian Gymnastics Federation. With a total of four World Championship Medals, three of them gold, four European Championship medals, and five World Cup medals, Oksana Omelianchik has distinguished herself as an enduring legend in the sport.
Photo
Gallery