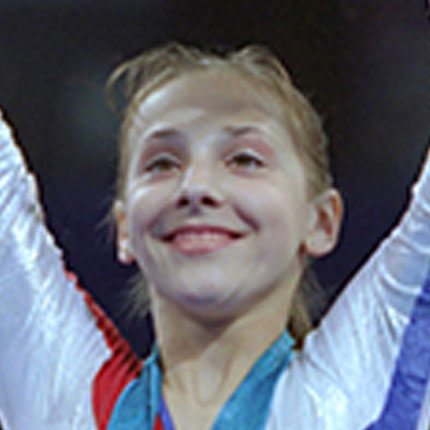 Andreea

Raducan

When Andreea Răducan burst onto the international scene, it was clear that she was one of the new generation gymnasts groomed to take over the torch of Romanian gymnastics excellence after the retirement of Olympic medalists Lavinia Milosovici and Gina Gogean.
At 33 years of age, she was elected President of the Romanian Gymnastics Federation in 2017.
Răducan was known both for her difficult repertoire of skills as well as her dance and presentation. Over her four-year gymnastics career, she won Olympic or World Championship medals in the all-around and on every event except the uneven bars.
Born September 30, 1983, in Bârlad, Romania, Andreea Mădălina Răducan began gymnastics when she was very young. By the age of 12, she joined the junior national team at Club Sportiv Cetate Deva. She was successful in her first World Championships in 1999, in Tianjin, China. She helped her team claim the gold over Russia. She placed 5th in the all-around, won floor exercise, and placed second on balance beam.
And as talented an all-around gymnast as Răducan was, she will always be remembered for being stripped of the all-around gold she won at the 2000 Sydney Olympics. Răducan had trusted the Romanian team doctor, who gave her cold medication. A drug test revealed that the pills tested positive for ephedrine, a banned stimulant at the time.
Răducan was able to keep the gold medal that she and her Romanian teammates had won earlier, and a few days later, she earned the silver medal on vault. Răducan went to the Court of Arbitration for Sport in Switzerland to get her all-around gold medal back. She was denied the request but was exonerated for anything wrong-doing by the CAS, the Romanian Olympic Committee and the International Gymnastics Federation.
Răducan did not turn her back to the sport. She competed in the 2001 Ghent World Championships, where her team won the gold again. She placed third all-around and on vault, and won gold medals on balance beam and floor exercise.
She retired from the sport in 2002. Răducan graduated with a degree in physical education from West University in Timisoara, and earned a masters in journalism from the University of Bucharest.
In 2010, she released her autobiography, "The Other Side of the Medal" which chronicled the controversial decision to strip her of her gold medal at the Sydney Olympics.
At 33 years of age, she was elected President of the Romanian Gymnastics Federation in 2017. After Romania did not qualify a full team at the 2016 Olympics, she promised profound change to make sure that never happens again.
Răducan married Daniel Tandreu in 2016, and their daughter Amira Sophia was born on September 25, 2017.
Today, her legacy as a Romanian gymnastics legend is secure, as she was inducted into the International Gymnastics Hall of Fame's Class of 2018.
Photo
Gallery