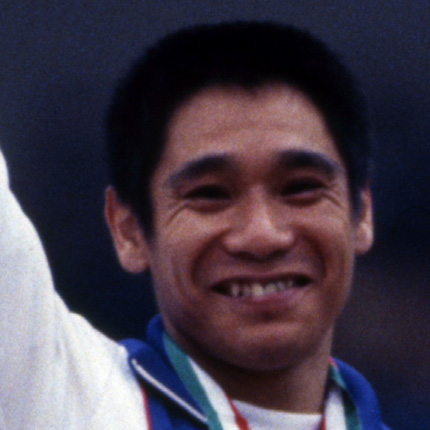 Koji

Gushiken

1984 Olympic All-Around champion Koji Gushiken's emotions, when he discovered he won the gold medal, were understandable. An Achilles tendon surgery kept him out of the 1976 Games, and a boycott of the 1980 Olympics crushed his dreams to compete for the gold in Moscow.
So, Gushiken's come from behind victory in Los Angeles was even sweeter considering the challenging journey that he endured to arrive at that pivotal moment.
Koji Gushiken was born on Nov. 12, 1956, in Osaka, Japan. He started competing in gymnastics on a national level in 1976 and won his first individual event title in Japan in 1978.
His first World Championship medals came in Ft. Worth in 1979 where he won a bronze on pommel horse and silver with the team. Then, two years later, he won four medals at the 1981 Moscow World Championships, including bronze in the all-around. At the 1983 World Championships, Gushiken won three medals this time, including silver in the All- Around.
By the time of the 1984 Los Angeles Olympics, Gushiken had won nearly every important medal in the sport of gymnastics, except the most coveted, the Olympic all-around gold.
While much of the focus was on American Peter Vidmar, and China's Li Ning, Gushiken, with his trademark clean execution, came from behind to earn his most precious medal by finishing just ahead of Vidmar by the smallest margin possible, twenty-five thousandths of a point!
He retired later that year and has remained involved in gymnastics as one of the coaches of the highly successful Japanese national men's team.
With 10 World Championship medals, two of them gold, and four Olympic medals, including the All-Around gold, Koji Gushiken takes his rightful place in the International Gymnastics Hall of Fame.
Photo
Gallery