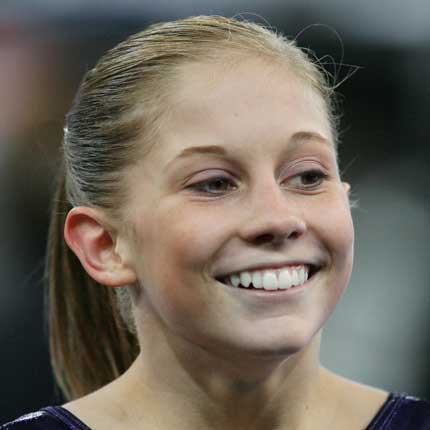 Shawn

Johnson

At the 2008 Olympics in Beijing, Shawn Johnson won a total of four medals, gold on balance beam, and silver medals in the all-around, floor exercise, and as a member of the US team...
With 3 Olympic medals, 1 gold, 3 World Championships gold medals, and 7 Pan Am medals, Johnson is among the most accomplished gymnasts in US history.
Under the coaching of Liang Chow and Liwen Zhuang at Gymnastics and Dance Institute in West Des Moines, Iowa, Johnson earned her first spot on the U.S. senior national team in 2007.
That year, she had one of the best rookie seasons ever recorded in the history of gymnastics as she won the American Cup, Pan American Games, US National Championships and the World Championships, all in her first year as a senior gymnast.  
In addition to her World all-around gold in 2007 in Stuttgart, Germany, she claimed the golds on floor exercise, and with her US team.
She used her raw power and explosiveness to win four gold medals and one silver at 2007 Pan American Games.
With an enthusiastic smile, and a modest demeanor that belied her competitiveness, Johnson maintained a more balanced lifestyle than typical of elite female gymnasts.  Johnson attended Valley High School. She was on the honor roll and liked to attend football games and dances.
None of her so-called "normal" upbringing affected Johnson's ability to achieve the highest successes in the sport. 
In May 2009, Johnson's fame reached new levels as she became the winner of season eight of Dancing With the Stars, and in November 2012 she earned second place on the all-star edition.
In 2010, Johnson attempted to comeback to elite competition, but a knee injury from a skiing accident that year complicated her plans.  With grit and determination, she overcame her injury to win a team gold and uneven bars silver at the 2011 Pan American Games. 
Johnson announced her retirement from gymnastics on June 3, 2012, but her star has never faded.  Over a decade removed from her Olympic success, Johnson still inspires her admirers to this day, and she has worked to develop a massive social media following. 
In 2016, Shawn married Andrew East, a Vanderbilt alum, who is currently a long snapper for the Washington Redskins.
Shawn and Andrew use their extremely popular Youtube channel, which has 750,000 subscribers, to inspire others in areas of lifestyle, fitness, beauty and relationships.  They are expecting their first child in the fall of 2019.
With three Olympic medals, one gold, three World Championships gold medals, and seven Pan Am medals, five of them gold, Johnson is among the most accomplished gymnasts in US history.  
In 2019, Shawn Johnson takes her rightful place in the International Gymnastics Hall of Fame.
Photo
Gallery